About CAMETO
CAMETO and Continuous Improvement
In our continuous improvement and adaptation to market demands, the production system and product traceability are governed by a quality and environmental system following the guidelines of the UNE ISO 9001:2015, UNE ISO 14001:2015, and UNE ISO 45001 standards.
The company's policy is clear: seriousness and honesty, fulfilling commitments made to the customer in terms of price and timeline, integrating the monitoring of our Quality, Environmental, and Safety policies into the production processes. All of this is framed within the continuous improvement that characterizes us.
Who We Are and How We Operate
PHILOSOPHY
OUR PHILOSOPHY
Perhaps due to the company's origins, the limited resources with which we started the business, but the immense enthusiasm that accompanied us, we have made EFFORT and a sense of RISK, more or less measured, the elements that provide us with the most stimulation in our daily work.
These two components, essential to entrepreneurial action, have as added values the intention, often reflected in the results, to complete projects ON TIME and ON BUDGET. This way, the companies or entities we work for can find a high level of satisfaction in receiving the product or commissioned work within the planned timeframe and without significant budget deviations. This obligates us to special monitoring and control of each commitment and to prioritize productivity. We understand that the success of our company benefits us all, and achieving that requires everyone's best performance.
However, demanding productivity is inconceivable without the necessary means of WORKPLACE SAFETY. Therefore, it is evident, formal, and real how the company complies with and enforces all recommendations in this regard.
Within this framework of labor organization, it is increasingly satisfying to feel involved in the idea of SUSTAINABLE DEVELOPMENT. It is genuinely interesting to think that our business function is aligned with the best vision for the future. Working to preserve and enhance the ENVIRONMENT means being part of the idea shared by all humans: to preserve the Earth, making it perfectly habitable for future generations. Developing without destroying, consuming without depleting, changing without adulterating… these are basic principles of the environmental companies we collaborate with, which have taught us and engaged us deeply in this philosophy.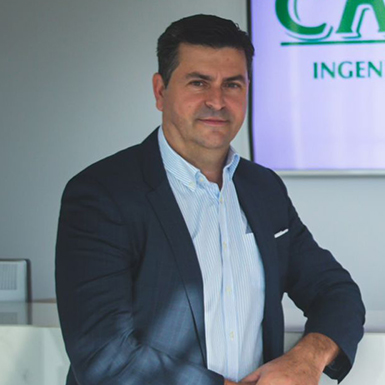 ANTONIO ORTÍZ SÁNCHEZ
Tomelloso, March 21, 2017.
GROUP COMPANIES OF CAMETO

CAMETO MOROCCO

CAMETO SOUTH AFRICA
CERTIFICATIONS AND ACCREDITATIONS
10 Years of Innovation
The Patent of the Solar Tracker that Makes the Difference
Discover How Our Patented Solar Tracker Has Revolutionized the Industry Over the Last Decade